Breaking News:
Amount raised thus far: $24,275
in only 14 days !!!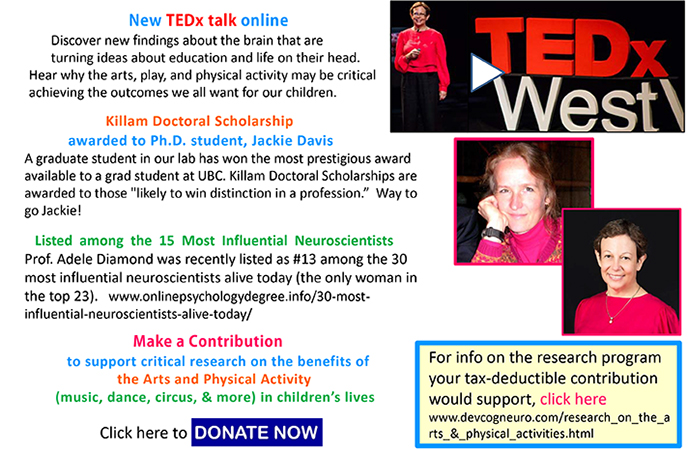 For those who would like to pay by cheque
& for those from the US, UK, or Hong Kong
who would like a tax receipt for your donation:
Please Click here.

Developmental Cognitive Neuroscience is an interdisciplinary field devoted to understanding how children's minds change as they grow up, interrelations between that and how the brain is changing, and environmental and biological influences on that.

Our lab specializes in studying a region of the brain known as prefrontal cortex (PFC) and the cognitive abilities that depend on it, especially in young children.

Those abilities are often called executive functions and consist of cognitive control functions such as cognitive flexibility, inhibition (attentional control, self-control), working memory, reasoning, and problem-solving.

We study ……

their development

genetic influences on them

environmental influences on them

& their neural bases

(neuroanatomical and

neurochemical).

To study their development, we have developed neurocognitive games that can be used even with infants, & where the same measures can be used with preschoolers through octogenarians

To study their neural bases and modulation by
genes and neurochemistry, we use functional neuroimaging (fMRI) & molecular genetic techniques

To study their modulation by the environment, we look at detrimental factors such as poverty or stress, and we look at facilitative factors such as bilingualism, school programs, and hope to soon start looking at dance and storytelling.

Interview at the Foundation Dr Julien de pédiatrie sociale

Interview by Fanny Kiefer: part 1

Interview by Fanny Kiefer: part 2

Talk with the Dalai Lama at the Orpheum Theatre

Talk at the Heart-Mind conference 2013

Maastricht Univ.: Academic Year Opening Address

The Importance of Early Childhood Education

Active, Hands-on Learning is more Effective

click on the above images to see videos

click on the above images to see videos

click on Alan Alda's picture

click on the Dalai Lama's picture

Click Here

Want to optimize executive functions and academic outcomes? Simple, just nourish the human spirit

.
Diamond, A. (2014).

Minnesota Symposium on Child Psychology, 37

, 205-232


Executive functions (EFs; which make possible mentally playing with ideas, giving the considered rather than impulsive response, resisting temptations, staying focused, problem-solving, and creatively meeting unanticipated challenges) suffer if we are sad, stressed, lonely, or not physically fit. Since EFs are critical for academic achievement, if we want students to excel we need to take seriously the fundamental interrelatedness of the different aspects of a person. If emotional, social, or physical needs are ignored, those unmet needs will work against academic excellence. The arts and physical activity can challenge EFs (e.g., by requiring focused attention and discipline) and thus improve them, and they can support EFs (and hence optimal school performance) by bringing joy and pride, building community, and whipping the body into shape. Thus promoting the arts and physical activity may be vital for improving academic outcomes. Schools can improve academic outcomes by increasing the joy and well-being of their teachers and students.

Our 2011 Science paper (Diamond & Lee 2011) reported that surprisingly diverse approaches (including yoga and traditional martial arts) apparently can improve children's EFs & PFC function.

Detailed information appears in the Tables in Supplemental Online Materials.


see also:


Diamond, A. (2012). Activities and programs that improve children's executive functions. Current Directions in Psychological Science, 21, 335-341.(pdf)

Selected to appear in Psychology Progress (Dec. 9) (which alerts the scientific community to breaking journal articles considered to represent the best in Psychology research)





Click Here
for pdf

The Evidence Base for Improving School Outcomes
by Addressing the Whole Child and by Addressing Skills
and Attitudes, Not Just Content

by Adele Diamond

in Early Education and Development, 2010

If we want the best academic outcomes, the most efficient and cost-effective route to achieve that is, counterintuitively, not to narrowly focus on academics, but to also address children's social, emotional, and physical development. Similarly, the best and most efficient route to physical health is through also addressing emotional, social, and cognitive wellness. Emotional wellness, similarly, depends critically on social, cognitive, and physical wellness.


Click Here

One line of our work has led to worldwide changes in the medical guidelines for the treatment of a genetic disorder (PKU) that improved many children's lives.


see: www.apa.org/research/action/pku.aspx

We have recently documented marked advances in executive functions due to an early childhood school curriculum (Tools of the Mind) that requires no specialists or expensive equipment, just regular teachers in regular classrooms. The children who spent more time in social pretend play outperformed their peers who received more direct academic instruction. We are now following this up in a longitudinal study.
see also:

http://www.nytimes.com/2009/09/27/magazine/27tools-t.html
see also:

httpp://www.devcogneuro.com/images/Pubs/
National_Scientific_Council_on_the_Developing_Child2009.pdf




In 2005, we argued that ADHD without hyperactivity differs in its genetic and neural basis, cognitive profile, and responses to medication from ADHD that includes hyperactivity. This has resonated deeply with clinicians and patients.




In 2004, we reported evidence of the relation between a genetic polymorphism and EF performance in children that challenged accepted notions of the role of dopamine in prefrontal cortex.





Click Here

In 2002, we showed we could halve the age at which infants can demonstrate the ability to deduce abstract rules. Our pilot work indicates that this also works with children with autism. The implication is that children with autism may be able to grasp abstract concepts long thought beyond their ability; the information just needs to be presented to them in a way they can understand.


see: http://www.devcogneuro.com/Publications/TICS-2006.pdf


Click Here

Our earlier work demonstrated one of the first strong empirical links between early cognitive development and brain function, and was instrumental in beginning the field of Developmental Cognitive Neuroscience.
see: http://www.devcogneuro.com/images/table.jpg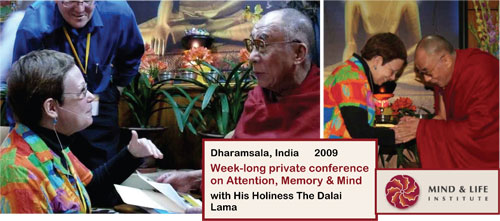 for info on the meeting above, click
here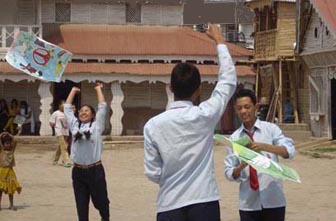 American Public Media's
program On Being
with host, Krista Tippett
Learning, Doing, Being: A New Science of Education
"What neuroscientist Adele Diamond is learning about the brain is turning some of our most modern ideas about education on their heads. Her work is scientifically illustrating the educational power of things like play, sports, music, memorization and reflection. What nourishes the human spirit, the whole person, it turns out, also hones our minds.
My thinking about the education I received, about school testing, and about what I want for my children will never be the same after the conversation I had with neuroscientist Adele Diamond."
For Blog, click here
for info on the program, click here
to listen to a re-airing of the interview, click here